6-in Synergy Pro Bomber Professional Regulation Cornhole Bags
In stock

Product Type: Cornhole bags
Model Name: Synergy Pro
Level: Professional
Meets Regulation Specs: ✅ Yes
Includes: Four (4) cornhole bags
Features:
▪ Dual-sided fabric construction, poly turbo and microsuede grip enhances strategy and control
▪ All-weather resin pellet filling
▪ 170+ unique designs to choose from
▪ Meets ACA regulation standards
▪ Double reinforced stitching
Playing Surface Width x Length x Depth: ~6-in x 6-in x 1-in
Weight: ~15-oz
Fabric Material(s):
Side 1: microsuede grip
Side 2: poly turbo weave
Stitching: Double reinforced stitching
Filling: All-weather resin pellets
Graphics Printing Method: Sublimation
Weights and measurements are approximate to allow for variance in raw materials as well as controlled tolerances in the manufacturing process.
6-in x 6-in cornhole bags are compatible with:

All 2x4 Cornhole Boards (Sig Pro, Star, MP2, CP2)
2x3 Dale Cornhole Boards
18-in x 18-in Airmail Box Cornhole Boards
Official ACA Approval
Meets ACA Specs for Regulation Cornhole Bags

Fast Shipping
Easy to order, ships quickly

For Loft and Drive Shots
Strategize your throws
Synergy pro professional cornhole bags
Be the Boss of the Toss
Master the game of cornhole with the added ability to strategize and control more tosses. Glide, grip, block, and push to play to 21!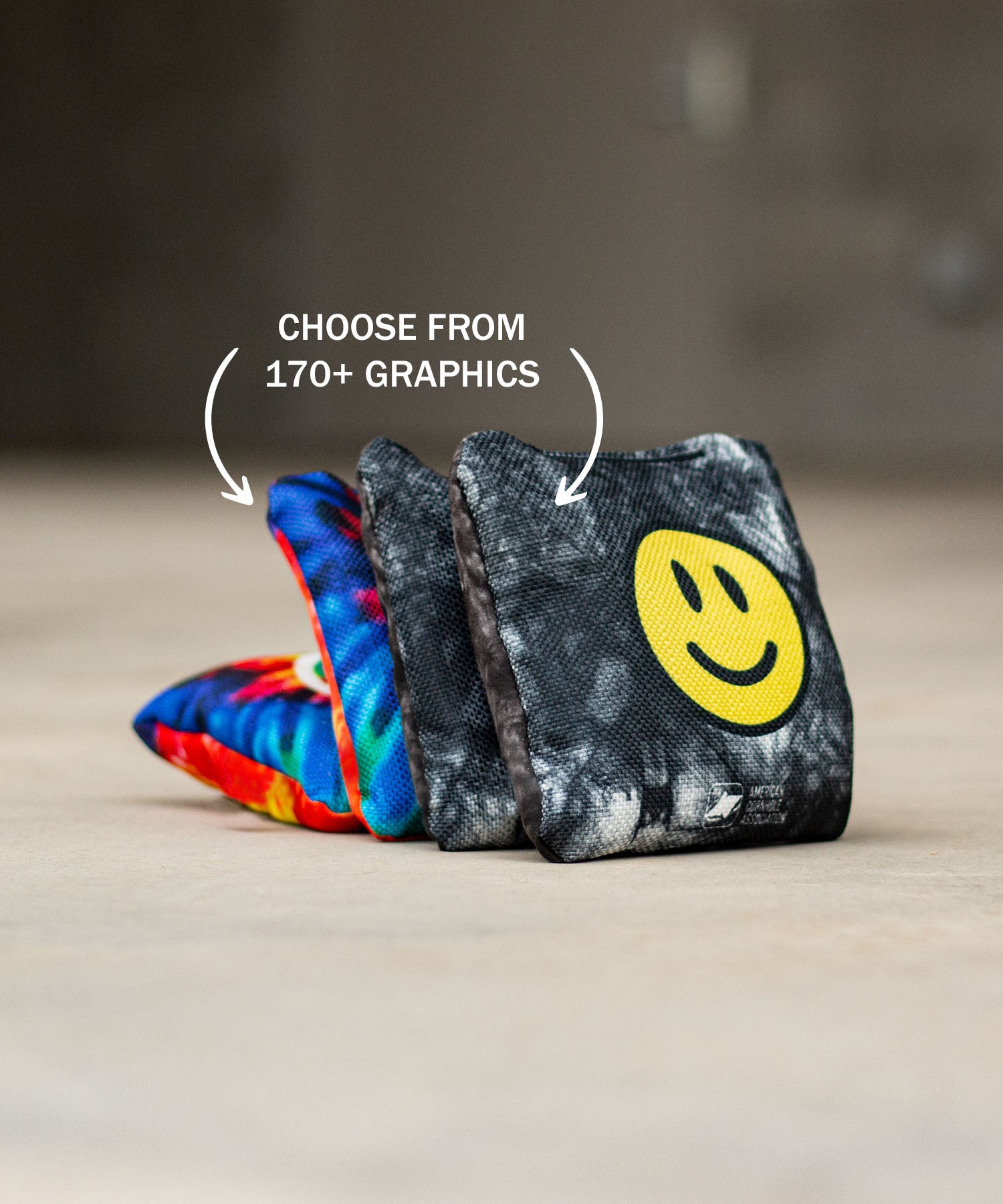 Glide and Slide to a Win
You want great cornhole bags? We've got great bags—the Synergy Pro Cornhole Bags. And we aren't making them out of the cheap stuff. We're crafting them with quality materials, the best graphics, at the best price.