Cornhole boards for any occassion
usa made, built to last
born in the usa
new! airmail box training boards
perfect your airmail
2x3 dale cornhole baords
tailgate all year long
ACA regulations and standards
Cornhole boards
Board Top Dimensions: 23½–24-in x 47½–48-in
Board Top Thickness: At least ½-in
Front Standing Height: 3–4-in
Rear Standing Height: 12-in
Hole Diameter: 6-in (+-¼-in)
Top of Board to Center of Hole: 9-in (+-¼-in)
Sides of Board to Center of Hole: 12-in (+-¼-in)
Choosing your cornhole boards
Size Matters
2-ft x 4-ft Cornhole Boards
Our 2x4 Touring Pro, Star, and Sig Pro cornhole board models all make for a classic playing experience.
The Ideal Play:
- Backyard
- Friendly Competition
- Tournaments
2-ft x 3-ft Cornhole Boards
Two-foot by three-foot cornhole boards are designed for easy setup and lightweight travel to get the game going quickly. These boards come in a fun, value packed size for recreational game play.
The Ideal Play:
- Tailgates
- On-the-Go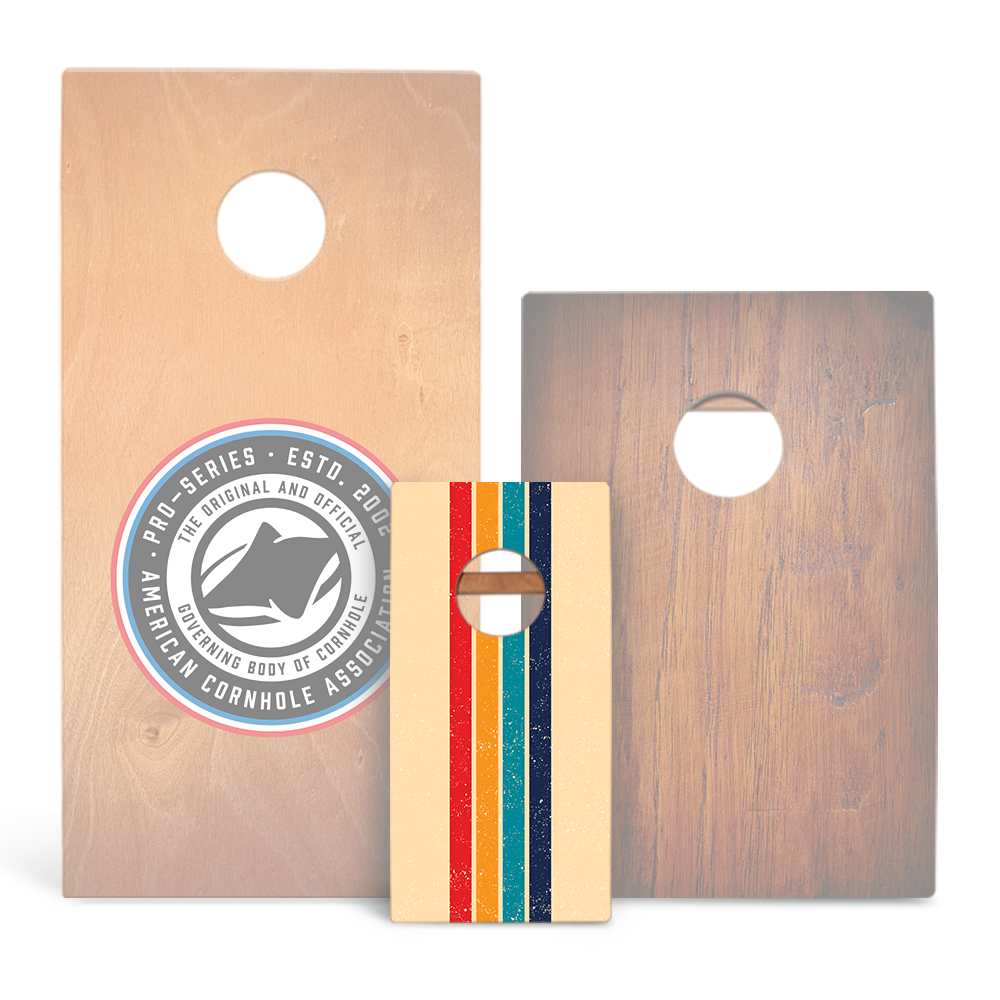 1-ft x 2-ft cornhole boards
Now you can enjoy the game of cornhole in a lightweight travel size. One-foot by two-foot cornhole boards are great for travel, camping, small indoor spaces, and younger players.
The Ideal Play:
- Camping
- Indoors
- For kids
just a great product
the whole process was so easy to use, and the products are very well made, their customer service is A1, and the boards are a work of art.
Ronnie P.
Perfect!
These were shipped so fast. Included the bags I ordered in the same box which was nice. Boards are very well made and look amazing!
Jacob M.
Highly Recommend!
We had a great experience with your company. My wife loves her boards and we will definitely recommend and be using you again for any further purchases.
Chris W.
perfect for kids or great for traveling
Fun for everyone
Who says little boards mean less fun?
for a rainy day or packing light
play cornhole anywhere
Little package, big challenge!