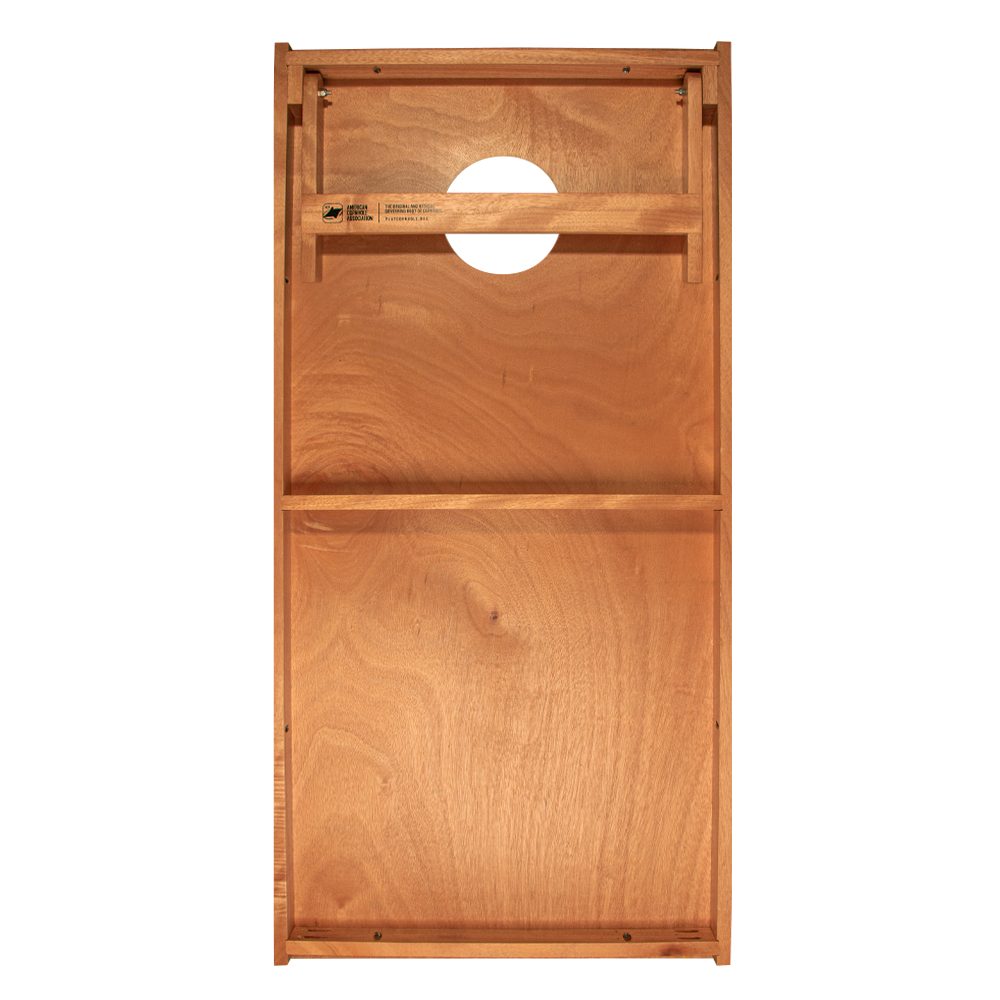 2x4 Backyard 2400 Distressed Wood Flag Recreational Cornhole Boards
In stock

2x4 Backyard 2400 Distressed Wood Flag
Cornhole Boards that are Light on Weight and Your Wallet
If you're looking for affordable boards that are easy to carry, try out ACA's 2x4 Backyard 2400 Recreational Cornhole Boards. Affordability meets rugged construction for beginners and advanced players alike.
Set of two (2) 2-foot by 4-foot boards

Lightest 2x4 ACA boards, approx. 15 pounds per board

Collapsible legs to easily store boards away

Vibrant HD Graphics

Splinterless 6-inch hole

Smooth ½-inch, premium plywood playing experience

Handcrafted, 100% premium mahogany frame

Frame constructed with corrosion-resistant hardware

All cornhole bags and accessories sold separately
Product Type: Cornhole Boards
Model Name: Backyard 2400
Level: Recreational
Meets Regulation Specs: No
Includes: Two (2) cornhole boards
Features:
▪ Lightest 2x4 ACA boards at ~15-lb per board
▪ Anti-bounce center crossbeam
▪ Collapsible legs
▪ Smooth-finish playing surface includes 6-in splinter-less hole
▪ Corrosion-resistant hardware
Playing Surface Width x Length: ~2-ft x 4-ft
Hole Diameter: 6-in
Frame Standing Front Height: ~2-in
Frame Standing Rear Height: ~11-in
Weight: ~15-lbs per board
Playing Surface Material: ½-in thick, Grade-A premium plywood
Frame Material: Mahogany
Hardware: Corrosion-resistant stainless steel
Weather-Resistant: Playing surface and frame
Graphics Printing Method: Vibrant HD graphics
Weights and measurements are approximate to allow for variance in raw materials as well as controlled tolerances in the manufacturing process.
Bags sold separately.
2-ft x 4-ft cornhole boards are compatible with:

All 6-in x 6-in cornhole bags (Synergy Pro, Daily 66x, Daily 66)
2x4 Cornhole Board Carrying Casae
2x4 Regulation Cornhole Board Covers
LED Cornhole Boards Lighting Kit

Fast shipping
Easy to order, ships quickly

Fun for all ages
Anyone can play, right in your backyard

Lightweight and portable
Great for all types of players, anywhere you go
Backyard 2400 Recreational Cornhole Boards
Building Better Board Options
Backyard 2400 Cornhole Boards are your solution for a set that is light on the weight and the wallet. Blending affordability and rugged construction doesn't have to cost the game. All Backyard 2400 boards are built with premium plywood tops and mahogany frames, then coated with a weather-proofing sealer.
Get What You Pay For... And More!
Backyard 2400 Cornhole Boards are a great choice when looking for an affordable, lightweight set that won't fall apart after the first use. We use materials that'll last you season after season without sacrificing quality.