Official Regulation Cornhole Boards
Official regulation cornhole boards are the perfect addition to any backyard gathering, tailgating party, or corporate event. Official ACA cornhole boards provide hours of fun and classic gameplay action. Official cornhole bag toss games are built to ACA specs with premium-grade materials for long-lasting durability.
Cornhole board tops are made of 23.75in x 47.75in x 0.5in Baltic Birch wood
Cornhole board frames are made with Poplar for strong support
Made in the USA
Official ACA Regulation Cornhole boards are built to ACA cornhole board specifications for backyard fun or professional competition.
6-inch hole with a smooth bevel for no splintering
Smooth beveled carrying handles
Collapsible legs for easy storage and transportation
Center support beams to eliminate bag bouncing
Why buy official cornhole boards from the American Cornhole Association?
The growing popularity of cornhole games is undeniable. With this popularity comes a great responsibility to our organization to maintain the purest standards in cornhole gameplay. This responsibility not only applies to maintaining the official cornhole rules, but to the products that we build, the customers we serve, and the great team of people who make it all happen.
When you buy an official ACA cornhole board game, you do not only get an excellent set of cornhole boards built for long-lasting cornhole game fun, you're investing in the longevity of the All-American classic game itself. And for that, we are truly grateful and thank you for making us a part of what will likely become a long-lasting tradition among you, your family, and friends at tailgating parties, family gatherings, wedding receptions, and company events.
Customer Reviews
Write a Review
Ask a Question
12/22/2020
Jerry P.

United States
I recommend this product
This is absolutely a beautiful board. Very well made. You will not regret getting one one of these. Enjoy! Jerry P.
10/11/2020
Vincent S.

United States
I recommend this product
Great quality boards
Great boards, solid construction, a little pricey but I think it was worth it.
09/26/2020
George W.

United States
I recommend this product
Just as advertised
These boards are well built, do not bounce, look good; I expect them last. My only complaint is that they are very expensive. However, the old adage is true, "you get what you pay for." I do not hesitate to recommend them to a beginner or a serious, competitive player.
08/31/2020
Todd A.

United States
Suggestions
I love the surface. These are not as slick as boards I have played on before. It would be nice if these board came with a carrying case or one was available on your website. I got a carrying case off Amazon but it would be cool to have one with the ACA logo. I suggest having a 27 foot runner to fit between the boards to make set up quick and easy and to keep the bags cleaner. We made our own AstroTurf runner with the regulation length.
08/05/2020
Rick

United States
A backyard must-have
Just purchased this board set with red and Navy blue all weather bags. I holed the very first toss so I guess that means it was meant to be :-) Quality built all the way around, although the only thing I'm going to do is sand the top sharp cut edge around the boards to prevent the little chipping that has already occurred in one spot. Very solid, no bounce, and very little sliding. Just the way I like it.
07/17/2020
Karen S.

United States
Betsy Ross Flag Cornhole
Item is extremely well constructed; excellent quality. The quality of our game, however, needs to improve a lot!
06/09/2020
David B.

United States
Very high quality
We received the Betsy Ross Flag Regulation Cornhole Boards as a gift from some very good friends. We were very impressed with the quality of the set, and can tell that it will last a long time. We are cornhole novices, but are really enjoying learning how to play. The set is beautiful and will be a hit at our backyard parties.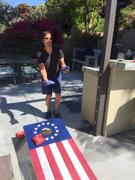 05/30/2020
Aaron D.

United States
Top of the line
Best boards ever, don't hesitate to get them.
05/28/2020
Lenore D.

United States
Quality Board and Design
We've already played several games. The craftsmanship is great, the bags are nice and appear durable. We are very pleased with our purchase!
03/19/2020
Calvin K.

United States
Hole lotta happy
Great. Both boards wer damaged in shipping. They had them picked up and sent two new boards with an extra set of bags.
Model Name
Star
Level of Play
Professional
Size
2ft x 4ft (Regulation)
Rear Height
~12-inches
Front Height
~3-inches
Weight
28lbs per cornhole board
Hole Diameter
6-inches
Playing Surface
100% Premium 1/2-inch Baltic Birch smooth plywood
Frame
CNC machined Poplar
Sealant
No water proofing sealant is applied
Printing Method
Vibrant HD Digital direct printing
Additional Features

Dual cross-beam support
Collapsible legs
CNC rounded corners
Splinterless hole
Smooth carrying handles
Nickel plated hardware

What's Included
Each cornhole board set includes 2 cornhole boards (cornhole bags sold separately)